"Touch this page and I'll probe your sister."
This page, Nekrozoth, was written by BrandonDarkOne47 . Any original work, images, etc. presented here is therefore theirs under the CC BY-NC-ND license. Please do not add onto, delete, or copy anything on this page without the original author's permission. Thank you.
Nekrozoth
General Information
Full Name
Zoth Nekronan
Alias

Nekrozoth
The Creator of Evil
The Omega Lord
The DarkMaker
Embodiment of Evil
Evil Incarnate
The True Evil Incarnate(Self Proclaimed)
The Supreme Ruler of Evil
Omega
Nuron
The Dark-Lord
The Serpent
The Destructor
The Mordonan
Zerkon
Father Chaos
Father Discord
The Dark
Great King of Monsters
The Trickster
God of Evil
The Chaos Bringer
Bringer of Nightmares
Lord of Corruption
The Sinful
The Great Beast
The Devourer
The Conquerer
Father of all Monsters
Evil God
The Dreaded
He-Who-Conquers-And-Destroys
Lord of the Void
Lord of the Omegas
Void god
Void Overlord
The Prime Omega
The Prime Evil
Prime Chaos
Zoth the anti-God
the Uncreator
the devourer
Devourer of worlds
the destructor
The Anti-God
Nekrozoth the Anti-God
Zoth
the devourer of souls
Light killer
bane to all gods
The malevolent trickster
Mr.Malevolence
Lord of domination
Nekrozoth the destructor
Nekrozoth the conqueror
Nekrozoth the corruptor
The dark Titan
the dark god
Divine Evil
the mad god
the insane one
the demon king
Daemos
the Superior Life-form (self proclaim)
Anti-God
The God of infinity
The Tyrant
Tyrant of infinity
Infinite evil
the Complete Monster
Great One
Infinity Evil
Infinite Lord of the Abyss
the red Abyss
Red Abyss
Father (By his children)
The father of evil
The Dark
The Father of Chaos
Him
Lord of Sin
The Devil
Satan
Lucifer
Angra Mainyu
Ahriman
Emperor of the Multiverse (Self Proclaimed)
Pure Evil (By Raiden)
The Darkness who speaks in tongue
The Dark One
He Who Shall Rule All and End All
Your Excellency
Your Magnificent
Your Grandeur
Zoth the Magnificent
Zoth the bastard (By Volcan)
Albino bastard (by Jack Spark)
My Master
My Omega
My King
My Emperor
You new Emperor for all of Eternity
King Nekrozoth
Emperor Nekrozoth
NekroDick (by Brandon Banlock)
The Bitch in yellow armor (by Aka Manah)
Tyrannical Daemon (by Nuvon Drex)
Bastard of a Friend (by Aka Manah)
The Chaos With No Name
The Dark Emperor
The Chaos Emperor
King of Chaos
The Ruler of the Empire of Chaos
Emperor Chaos
The Lord of Chaos
Lord Omega
Your Benevolence
Malice Incarnate
The Mastermind
The Big man in Hell (By Artillery)
The Boss (by Artillery)
The Social Darwinist
Omnicidal Maniac
Lord of Omnipotence
Master of Chaos
Master of Destruction
Abandon
Evil's Master
God of Nihilism
Card-Carrying Villain
The man that killed my family (by Jack Spark)
Muderer of the Sparxians
Sparxian Butcher
Omega Fuhrer
The Fuhrer


Origin
Champions of the Multivierse
Class
Omnicidal Overlord
Character
Race
Prime Alpha
Age
Near eternal
Gender
Presumed male
Status
Presumed deceased
Alignment
No information
Personality
N/A
Hair Color
N/A
Eye Color
Yellow/Red
Professional Status
Affiliation
Omega Empire
Previous Affiliation
Prime Omega
Occupation
Father of Evil


Ruler of Oblivion and the Omega Empire


Previous Occupation
Alpha of Evil and Chaos


Ruler of the Prime Omegas


Partner(s)
N/A
Previous Partner(s)
N/A
Base of Operation
Oblivion


HECK Realm


Personal Status
Relatives
No information
Counterpart
Deus
Hobbies
Creating evil and discord


Making deals
Destroying other peoples lives
Making Monsters and demons (even by using living benevolent beings)
Conquering or destroying other dimensions
Torturing his minions
Stealing souls


Goals

To remold the Omniverse as he sees fit (succeed for a while)
To destroy all sentient life (mostly succeeds)
Kill every single Prime Alpha to extinction so that He and the Prime omegas will rule for all eternity (somewhat successful)
Get rid of Daevas (failed)
Rid the multiverse of redemption so his army of darkness cam remain evil for all eternity.(failed)
Kill Legend (Succeed indirectly)
Kill Jack Spark (faile)
Kill the Champions and those who would get in his way (mostly successful)
Kill Aka Manah for betraying him (succeed)
Kill Deus (Succeed through an ambush)
Have his true form be free from the HECK Realm (succeeded)
Free Endgame (Succeed but later backfired)
Use Endgame to cause as many destruction as possible so he could gain the Alphas trust through a disguise (succeeded)
Frame the Champions and have them hunted down (succeeded for a while) Enter the Real World (our world) and conquer an/or it (Failed)


Abilities
Powers

Omnipotence
Omniscience
Omninescience (ignores all)
Omnimalevolence
Omnimanifestation(can look like anything)
Vast Godly powers
Energy manipulation
Mystic manipulation
Chaos manipulation
Godly strength
Power absorption
Shape shifting and size shifting
Soul absorption
Dark matter and anti mater manipulation
Telekinesis
Telepathy
Pyrokinesis
Chronokinesis
Absolute control over everything evil
Laser eyes
Can create anything that comes in his mind
Control over atoms and nuclear particles
Godly stamina
Extreme Durability
High Invincibility
Unlimited cosmic powers


Abilities
High level fighting skills


Charismatic manipulation
Multiversal knowledge
Genius level intellect
Expert leadership


Type of Power
Chaos
Weapon
unknown
Portrayal
First Appearance
Beyond Dimensions
Latest Appearance
New Gotham
Voice
Isaac Grossman
Featured Character?
Yes
| | | |
| --- | --- | --- |
| " | You may question why I'm doing this. Is it because I have a tragic backstory? Is it because I'm insecure and need to be loved and accepted? Am I doing this for a noble cause or reason? Here's a simple answer for your pathetic mortal brains to comprehend. I am the bad guy. I have no end in mind that justifies my means. There are no skeletons in my closet, no abusive childhood or inciting misery that might expiate my vile behavior. I know the difference between good and evil. And I am fully capable of empathizing with the pain, emotional or physical, of others. I don't see myself as a sociopath. Rather, I simply prefer bad over good. Wrong over right. Dirty over clean. Sick over healthy. Untrue over true. Insanity over sanity. So now you know that I'm doing this is because... It's Easy and the right way to live. In my opinion of course. | " |
| | ~ Nekrozoth on why he is evil | |
| | | |
| --- | --- | --- |
| " | Mortals are dogs made to serve, nothing more. If you so like to save them then you might as well die with them! You see Legend? They chose this pass I created for them. They fight, they kill, they take, and they destroy and for what? Survival, that's right. Survival always justify the means, Charles Darwin actually made a theory about that and I believe it. Well I made it before he was ever born but still I believe that only the strongest, the most cunning, and the most capable beings should rise up on top of the food chain.That's why the most Evil, Maliciously cunning, and the most dangerous should rule. I'm the one who possesses all the capabilities, I am STRONG enough to kill my own brothers without any remorse, capable to force others to worship me and capable to commit the various atrocities across billions and billions of universes. You see, to me, mortals are the weakest in the food chain, that's why they're bread to serve their creators, only the strongest could rise to supremacy while the weakest will always fall to the very bottom. I'll admit it, that not all mortals are flawed or weak, like your apprentice for example but not all them has to the "good guys". We have Happy Smilestone, ooh one of my favorites. I enjoy how he makes the children scream or how he makes them KILL EACH OTHER. William Braxxon, the man who caused several heinous acts that were famous across Earth's history. Martin Pierce A.K.A. Master Onslaught was one of the most reviled and disputable beings in creation therefore I show respects too. Now you see that's why evil is superior to good, they're capable of doing more things than what you heroes are capable of. Evil is stronger, Evil is More Capable than any. Chaos equals Control, control equals Power, And Power equals Dominance. | " |
| | ~ Nekrozoth to Legend | |
| | | |
| --- | --- | --- |
| " | Let's see what gifts we have for our guests. An angel...dead. Two apprentices ...dead. A time traveller...dead. A son...dead. A blacksmith...dead. A daemon...dead. A champion...dead. You...will...bow! To...me. | " |
| | ~ Nekrozoth to Nuvon Drex in his Moment of Triumph. | |
| | | |
| --- | --- | --- |
| " | Chaos is Control!!! | " |
| | ~ Nekrozoth's most famous catchphrase. | |
Nekrozoth, also known as the DarkMaker or the Omega Lord is the Overarching and Overall Main antagonist of the entire Multiversal Legends Franchise and the one of the overarching antagonist of the entire Omniverse as a whole (along with Chernobog and Artillery).
He is the actual creator of Evil and the supreme ruler of the hellish dimension called Oblivion and the Omega lord of the Prime Omegas. He was once part of a race of omnipotent deities who are more powerful than regular supreme beings known as the Prime Alphas who are the true creator of the infinite multiverse, they are lead by his brother called Deus who is the Ultimate Creator of the Infinite Multiverse who Nekrozoth is equal with and Deus evil counterpart making him the Anti-God to his brothers. He is the Champions's Archenemy (mainly Legend's and Jack Spark's Archenemy) 
His goal is to either destroy, corrupt or conquer the Infinite multiverse and remake it in his own image. He is the evilest villain the mythos and the archenemy to all gods and supreme beings, and by far, the evilest being in the Omniverse. The darkest and tyrannical Supreme-being of all the universes and the most powerful enemy of all time. 
He was one of the main villains in Champions of the Multiverse, the main story of the franchise. In it, He was the overarching antagonist of phase one, the main antagonist of phase 2, the secondary antagonist of phase 3 and a minor antagonist of phase 4, the overarching antagonist of phase 5, and one of the main antagonist of phase 6 (Along with Endgame the Anti-Maker), and one of the main of phases 7 along with Vekkisul and Tenebris, the main villain of Phase 8 through 9 as well of the posthumous antagonist of the 10th phase and one of the main villains of phase 12, the final phase of the franchise. He was also the posthumous antagonist of it's sequel series called Multiversal Champions.  
He was a major antagonist of it's spin off series Legends of the Omniverse, being a minor antagonist of Season 1 and a major antagonist of season 2. He was also the overarching antagonist Project Pandora/Forces, Kirby Stanley the MasterMaker Series, and Chaos Gate.
He was also one of the Two main antagonist of Legend, the prequel series to Champions of the Multiverse (along with his apprentice Malroc). He appears as major antagonist of season 1, and the main villain of the season two premiere and the main villain of Season Three. He finally reappears as the main villain of Season 5-6.
He was the main villain of Prime, the novel series center around the Prime Alphas. He is the overall main villain of the entire Multiversal Legends Film Universe (MLFU) and is one of the main antagonist of the massive online game Legends Online.
Nekrozoth was also the Main Overarching Antagonist of Omniversal Legends, he was also a background antagonist of The Flame (His symbol was seen in the background of the first episode and was mentioned a few times across the series) and a minor antagonist of The Traveller (Only seen in during the time Travel arc). Nekrozoth was also a background antagonist of Umbra Mythos (Only seen in the magic book known as the Necroscion via a picture of him along with a Omega Symbol). 
Nekrozoth is confirmed to be one of the main antagonist of the upcoming Multiversal Legends light novel series along with Vekkisul and Terachoro.  
He was created by BrandonDarkOne47 and voiced by Isaac Grossman who also voiced his Worlds Arena video game counterpart. In the Multiversal Legends Film Universe He was played by Oscar Isaac, who also played Apocalypse from X-Men Apocalypse and voiced by Richard D. Wassermann who played Sargeras from World of Warcraft.
Character Description
Nekrozoth is an evil omnicidal warlord and is the leader of a omnipotent race of evil destructive gods known as the Prime Omegas as well as the leader of the Omega Empire with an iron fist. He takes the role as the God of Evil" in the Multiversal Legends franchise and is the archenemy to his nephew Legend (along with his apprentice Malroc). A power hungry, chaotic, immoral monster that seek to destroy all of creation just to spite the Alphas, Nekrozoth serves as the enemy to all life in the omniverse. He first appeared in Champions of the Multiverse as the overall main villain where he appears as the overarching antagonist of phase 1. In Phase 1, Nekrozoth freed the chaos daemon Aka Manah to wreak havoc and collect the stones for him with the daemon knowing that he is merely a pawn. He finally returns in phase 2 were he became the main antagonist, in his quest for the chaos stones, Nekrozoth murdered quadrillion lifeforms until he was stopped and killed by the champions. He later returns in phase 3.
Worlds Arena
| | | |
| --- | --- | --- |
| " | Your pathetic attempts at gaining my sympathy bore me. Your attacks and "morals" annoy me. Your idiocy angers me. But now? Now all of that is the past. After killing your little legion, I will merge these timelines. I will create a never-ending period of war. And then? Then I will destroy it all. I will accomplish what so many "villains" have attempted and failed. Ready yourselves, Champions. The age of the Alpha is over. Long live the age of the Omega! Or, in other words...long live ME. | " |
| | ~ Nekrozoth | |
Nekrozoth appears in the 2019 fighting game Worlds Arena as the titular main antagonist and will be the true main antagonist in its upcoming sequel, Worlds Arena: Champions of the Void. After a series of rifts bring Champions and villains alike from different timelines into a single loop of time, Nekrozoth attempts to merge the timelines and destroy the Omniverse as a whole, similarly to his goals in the source material. Unlike the source material, Nekrozoth's power level is cut extremely, as he is defeated by mortals such as Legend and Jack Spark.
Nekrozoth's appearance takes obvious inspiration from his MLFU counterpart. He is also a playable character in both the "Arcade" and "Multiplayer" game modes. He is voiced by Isaac Grossman.
Combat Characteristics
TBA
Variations
Omega: Moves based around sorcery and Nekrozoth's godly abilities.
Warlord: Moves based around Nekrozoth's weapons and physical strength.
Omnicidal: Moves of extreme power and devastating effect.
Signature Moves
Quantum Charge: Nekrozoth harnesses quantum energy and charges at an opponent. If the attack lands, the opponent will be knocked across the screen and set on fire.

Quantum Warp: An upgraded variation of Quantum Charge. Nekrozoth charges at an opponent, traveling through a quantum tunnel and finishing the attack from behind.

Omega Rays: Nekrozoth summons three devastating blasts from the sky which follow the opponent. If a ray hits Nekrozoth, his next attack will double in damage.
Hail the King: Nekrozoth leaps in the air and comes crashing down on the opponent, sending out powerful shock waves if his attack were to miss.
Extinction Event: Nekrozoth opens portal above his opponent which proceeds to rain down curses on them.
World Cleaver: If within range of the attack, Nekrozoth will reach his hand into the opponent's chest and pull out the World Cleaver, slashing the opponent with it multiple times before forcing it back into their chest.
Omega Lord: Nekrozoth holds up Darkseid's decapitated head, squeezing it with his hand and forcing two Omega Beams to fire out of the eyes.
Ring of Chaos: Nekrozoth rips his amulet, the Ring of Chaos, off of his neck and holds it towards the opponent. A portal opens a few feet away from the amulet, from which the Realm Beast attacks the opponent through the portal with its many tentacles. The attack ends in a blast of cosmic energy.
Quantum Bomb: Nekrozoth creates a sphere of quantum energy in his hand and throws it at the opponent.
Terraphobia: Nekrozoth takes a single step forward, creating a massive crack in the ground and critically injuring the opponent. In the upgraded version of this attack, a guiser may also appear beneath the opponent, spewing out molten lava.
Unholy Light: Nekrozoth pummels the opponent, knocking them backward, before telekinetically pulling them back towards him. He then emits a powerful blast from his Omega chest symbol, stunning and critically injuring them.
Nuron the Conqueror: Nekrozoth extends his hand, releasing a wave of anti-matter which temporarily blinds the opponent. He then summons the Harbringer of Wrath, throwing it at them before it flies back into his hand.

Nuron the Destroyer: An advanced variation of Nuron the Conqueror. After stunning his opponent, Nekrozoth will open two portals, one in front of him and one behind the player. An array of darkness daggers will fly out of the first, knocking the opponent into the latter. Another portal opens above Nekrozoth's head, from which the burning opponent falls out of.
Helping Hand: Nekrozoth extends his hand, which transforms to take the appearance of his true form before grabbing the opponent and throwing them in the air. Nekrozoth's top half transforms into that of his true form, releasing a powerful beam of energy at the falling opponent.
Third Eye: A third eye opens through a patch of flesh on Nekrozoth's forehead and fires a large beam of energy at the opponent which moves in an erratic fashion, similar to that of Darkseid's Omega Beams.

Finishing Glance: An evolved variation of Nekrozoth's Third Eye attack. Rather than one, a series of smaller eyes open across Nekrozoth's neck and forehead, resembling that of arachnids. They all flash purple and release a powerful wave of energy, critically injuring the opponent.

King of the Omniverse: Nekrozoth summons the Chaos Scepter and hurls it at the opponent. If the attack hits, Nekrozoth will reappear via portal behind the opponent and grab the Scythe with a single hand, releasing a powerful blast of chaotic energy from it's tip.
Fiend: Nekrozoth's eyes flare purple as he hovers above the ground. A series of arachnid-like pincers emerge from his pack and jabs into the opponent, pulling them in as Nekrozoth strikes them across the arena with a purple flaming fist.
TV Trope
Nekrozoth is an all-powerful deity, and the overall big bad of the entire Multiversal Legends Franchise (along with Aka Manah, Grandmaster Chaos, Malroc, Chernobog, and Endgame). He is the Creator of Evil and the destroyer of worlds (also being a conqueror of worlds as well) and runs the biggest evil empire in the Omniverse, he is also the Ruler of his own Universe called Oblivion.
--------------------------------------------------------------------------------------------------------------------------------------
0% approval rating: Everyone including his followers feared him but everyone else hates him. Even Daevas stated he doesn't like Nekrozoth because he is far too evil to even call him evil and would have stopped him if he weren't so lazy after the fight with Velnias. Even Endgame himself was horrified on what Nekrozoth had become and refuse to join him. 
Ambition is Evil: He actually wanted to become king of the Omniverse o he plots on killing Deus. He also wanted dethrone Daevas and kill every single god in existence so he could become the One And Only God to be worshipped. 
The Anti-God: To his brothers who are the Prime Alphas, the true creators of the omniverse. But mostly their leader and his twin, Deus who is THE creator of all existence. Nekrozoth role is to be the cosmic opposite to the all good supreme being. Being a evil dark counterpart to Deus and to destroy and create, though he mostly creates than destroy so that it could destroy. While Deus is pure good, so Nekrozoth will be PURE EVIL, as he will do the very opposite what his brothers have tried to accomplish, Balance across the multiverse. 
God of Evil: Nekrozoth is the true and absolute ultimate source to all Evil. He is the true mastermind behind all the evil stuff that happens in fiction and even the real world, he is literally called "The Father of Villainy". He proves that he is the Mastermind and Remiok Sethos is merely the Heavy.
Eviler than thou: to Remiok, Malroc, Aka Manah, and even Grandmaster Chaos. He is so vile and cruel that even he doesn't understand the Evil has Limits thing as he has known. Even every depiction of the Devil (including Remiok) are afraid of him and were disgusted by his actions. He's aware of how evil he is and often boast on how he makes other evil entities look like nothing, and it is often stated that it is impossible to be more evil than him as it can't be done even Evil itself confirms so despite saying that you can't be more evil than evil itself). To everyone and himself, he is the most evil being in the entire Omniverse. 
Evil Counterpart: to his brother Deus mainly. He does the very opposite of what his good brother wants. Peace and balance. He wanted nothing but evil and chaos across the multiverse and see everyone suffer. He wanted to disrupt the balance and rid of everyone's free will so that he would are the one that would do everything without being punished. 
Abusive Dad: To many of his demigod children, especially Charles. he only sees them as abominations and a Disgrace to his family. The only reason he uses them is so that he could have a "perfect child" with his abilities and evilness, so that when he is somehow killed or sent back to the HECK Realm he could use them as a host body or avatar. But to Charles, he cranks it to pure cruelty, for you see, Charles is but a kind hearted Child like Steven Universe and SCP-999. So obviously he really loathes him, even tried to torture him or outright kill him.
Redemption Rejection: He absolutely disdains Redemption, he only respects the "Irredeemable", thinking the redeemed are traitors and weak and goes against their villainy. He vowed to eradicate it from existence and even torture the redeemed. When Charles decided to join the good guys and make the inhabitants of Oblivion turn to redemption, Nekrozoth went from world Conquering/Destroying Psycho into full on Maniac.
The Social Darwinist: He believes that to survive in the world, you have to get rid of your morals, rules and become pure evil. Being soft and good makes you look like a weakling, and helping others that are weaker than you and to inferior to help themselves deserved to be enslaved. He views good as weak and thinks to be pure evil will make you strong by being brave enough to commit the most evil acts imaginable. On of his quotes were "Only the Strongest shall rise to Supremacy!".
Master Race; Though a social Darwinist, he believes that a master race that represent his views are superior to others, like his own race called the Sicorions who are a perfect example of this. The Sicorians believed that those who are not created by Nekrozoth are inferior but those who are created by him are superior as them. But your not created by him but follow his will are still inferior but could be apart of their race as a lower class. He viewed his own race as the most superior of all life forms. He view the Prime Alphas as inferior and sees the Prime Omegas as the true masters of the Omniverse. 
Omnicidal Maniac: His goal is to destroy all reality so it could go straight back to nothing and then after that's finished, he would remake it into his image where chaos and evil would be the dominant force in the omniverse and that Evil would always triumphs over good. One time he ordered Artillery to make a Multiverse ending Bomb with him replying with "Are you crazy or are you joking". Yeah thats how far he would go.
Greater-Scope Villain: To the entire Omniverse, including this wiki. If it wasn't for him, we wouldn't have the greatest evil beings the multiverse has ever know like Bill Cipher, Zalgo, Darkseid, and Satan. He even orchestrated many villain plots and is the true source to all evil.
Absolute Xenophobe: He HATES the Prime Alphas with a burning rage, he hates them as much as he hates redemption.
Authority Equals Asskicking: nobody want to mess with him. Even Satan said it was suicide on facing Nekrozoth alone, make it Mad to face him at all. One time, a fellow prime Omega rebelled against Nekozoth but was punished cruelly. 
The Chessmaster: he orchestrated everything evil in the entire Omniverse. He was the one that corrupted Bill Cipher so that he can spread chaos, and gave Darkseid the throne of Apokolips so he can spread tyranny. He was the one that turned every villain from the Multiversel Legends series evil. Deus even stated that every single villain is merely a pawn of Nekrozoth. He was able to manipulated events across the entire multiverse and instilled fear into countless civilizations. He was the main cause of the battle between good and evil, causing every conflict across the infinite multiverses and manipulating various other villains and events through his vile machinations of dominating the entire Omniverse so that he can show that evil is superior to good. When he became the ultimate source of all the bad things across the multiverse, he corrupted the humans as his brother, Artillery, supplied them with weapons of destruction. When the humans started to become more chaotic and destructive, Ahriman, one of the Prime Omegas, struck a deal with Nekrozoth, giving him control of the region. In order to keep the humans in check, as chaos and tyranny began circulating across humanity. Ahriman merged the two giving them a personified form and creating The Nameless Evil.He revealed to mana that it was him the test he free from his imprisonment, as he used negative energy to destroy the cube so he can wreak havoc on the omniverse and take the chaos stone. He brought the rise of many evil empires from zalgo and his minions to Outworld, Vilgax, Irken Empire, Chaos space marines, Salem's faction, and the Chaos insurgency and numerous others. 
Genius bruiser: He is after all, Omniscient, and has a incredible mind of creativity, strategy, and is a magnificent Bastard at heart. Both a Strategic and charismatic genius, and one of his most dangerous of his abilities is his intelligence and manipulation skills, he is able to convince an entire universe that they should join him and a quest against the Prime alphas and was able to staged the entire decimation of a realm, steering the blame towards a splinter group of Prime Alphas. He shown to be superior to Aka Manah and was rivaled by Chernobog, He knows what his creation should have so that he can make his monsters useful for his wars. He orchestrated many atrocities behind the scenes without the heroes and the Prime Alphas knowing. And thanks to Aka Manah he was able to dethrone his brother from the throne and became the ruler of the Omniverse for a while. He was so intelligent that he surpasses every god of intelligence such as the Egyptian god Thoth, Athena, and even his brother Lighron, the god of science. He convinced the remaining Alphas that he was dead but in reality was still causing trouble in the shadows. He is cunning and has an extremely intelligent mind and has vast knowledge about science and magic. Even when he was an expert conqueror and was the most feared of them all, he can influence others behind the scenes as he was behind the return of Aka Manah. He had conquered and destroyed over millions if not TRILLIONS of realms, universes and influence billions of hostile takeovers. If he won't be able to conquer that world then he would simply destroy it. He was also shown to be smarter than Thanos, Darkseid, Tony Stark, batman, and Doctor Doom. He is very manipulative, as he persuade many to join his side through using their deepest desires, or their vengeful motivation. He even convinced his followers to think that he isn't really the bad guy and making them believed that he is their messiah. he knows a lot about good and love, and used that as his advantage any point out it's greatest flaws to convinced others why they should pick evil over good. He is famous for being a magnificent bastard. He can be considered the Multiversal legends's palatine as he doesn't always forcefully conquers and destroys but he also used his intellect and manipulate skills. Nekrozoth new army grew and his omegas grew once more, and the new Omniverse war has started, as he what he and Manah had done, they had created a new type of warfare: organized Warfare. Nekrozoth used his new army to decimate an entire universe, and then went to the next and conquered it.
Faux Affably Evil: Though he is never nice, he can be at times merciful (in a twisted way) and can at times "honor" a deal he makes, If he feels like it of course. But he merely uses this act of kindness to make a good impression to his victims to show that he is not completely heartless and to make people like him for his own schemes. He is safer all a very manipulative and charismatic genius. He often speaks in a calm stoic tone but when everything doesn't go his way he acts like a psychotic man child. When a fellow prime Omega rebelled against Nekozoth but was punished cruelly. Nekrozoth chain him up onto an asteroid which was close to the sun and each time he gets close to it he is burned alive but doesn't die. 
Card carrying villain: It's extremely obvious he is this as he believes that evil is superior to good and had often gloat about his atrocities. He cares if he evil as he wants to BE evil. He even made a quote about his evilness 
Nekrozoth:"Listen and Listen well boy. I'm not the bad guy of this story, no I'm far worse. I'm the MONSTER OF THIS ENTIRE SERIES PULLING THE SRINGS HERE."
Nekrozoth:"You may question why I'm doing this. Is it because I have a tragic backstory? Is it because I'm insecure and need to be loved and accepted? Am I doing this for a noble cause or reason? Here's a simple answer for your pathetic mortal brains to comprehend. I am the bad guy. I have no end in mind that justifies my means. There are no skeletons in my closet, no abusive childhood or inciting misery that might expiate my vile behavior. I know the difference between good and evil. And I am fully capable of empathizing with the pain, emotional or physical, of others. I don't see myself as a sociopath. Rather, I simply prefer bad over good. Wrong over right. Dirty over clean. Sick over healthy. Untrue over true. Insane over insanity. So now you know that I'm doing this is because... It's Easy and the right way to live. In my opinion of course."
Redemption Rejection: "Redemption is for the Weak." He literally hates that word and had made a STRICT law that if anybody say that word or had redeemed themselves will be gunned down at sights without any warning or be mercilessly beaten to death. When Charles tried to change his father's heart, Charles tried to explained that Weaklings and the Strong can worked together, Nekrozoth responds with "YOU DON'T KNOW ANYTHING ABOUT THE SURVIVAL OF THE FITTEST!!! IN ORDER TO SURVIVE THE MULTIVERSE I'VE TRIED TO RESHAPE!!! IT WOULD HAVE TO TAKE THE MOST VICiOUS, DESTRUCTIVE AND THE MALICIOUSLY CUNNING LIVE!!!" and tried to kill his son. He even told Deus that he knew how to be good, he knew all about it and could have been a good ruler but he denied his chance and decided to remain evil
Above Good and Evil: His followers believed this, mainly Remiok Sethos and Baron Navirous. 
Ungrateful Bastard: Even if he is omnipotent which means he has LIMITLESS POWER, doesn't really suits him as he seeks more power. He wanted to be higher than Daevas himself and destroy him and become the true most powerful being in existence.
Man behind the Man: He caused Rremiok Sethos to become evil by having a serial killer to murder him the resurrected Remiok and made him insane. He was the one that drove Bill Cipher mad and made Lord Dominator evil. He wa the one that teaches Malroc the evil arts of darkness and gave him a desire for power. He practically the one behind every single villain ever in fiction as a whole. 
Sadist: Enjoys every single pain and despair of every being he comes across. 
Satanic archetype: Even though Remiok Sethos is the Satanic Archetype and despite being an Anti-God, due to his origins and role he can be viewed more of a Satanic Figure. He was once part of a divine race until he grew power hungry and decided to join their counterparts. He started a rebellion (or in this case war) against the creator of existence (His brother Deus) and is weaker to a supreme being (Daevas). He rules a hellish dimension of suffering and evil (Oblivion) and is the source of all evil. Nekrozoth is manipulative, and can corrupt his opponents with their desires (Bill Cipher, Black Hat, Lord Dominator and Lucifer). He can command hordes of daemons, and monsters including Prime Omegas. He has god like powers who use them for evil purposes. He is also a narcissistic, egotistical divine being who seeks to higher to his superiors but failed to and was Banta a hellish place.
The Dreaded: No attire how powerful or evil or brave you are Nekrozoth is with a doubt the most feared being in existence as he instills fear to his enemies. Even his most loyal followers dare not to get in his bad side.
There Can Be Only One: To Azoth, He was offered an alliance with Azoth but decided not to join him as he believed that the Omniverse belongs to him and HIM ALONE to rule and destroy if he choses. But later on in the legends of the Omniverse series he denied to join as he believe they could have a better chance in winning the war. But soon it is rivaled that he has a treacherous side as near in the finale he betrayed Azoth for the bid for power as it is revealed that he still believe that he is the sole ruler of the infinite omniverse.
Big Bad: Of Phase 2, and of the Big bad of phases 6, 7, 8 and 9 and the whole Multiversal Legends series. He is the Champions's main archenemy as well as being responsible for most, if not all of their problems. Later he was killed in Phase 9 and was replaced by a clone of himself named Kaloth, the Ultimate Life Form, until he returned once again the 12th and final phase. 
Evil Overlord: He lives in a hellish Dimension inside a evil fortress. Has hordes of loyal minions and evil creatures and rules an evil empire with a thirst for conquest and destruction and even power. He even seeks to conquer the entire Omniverse and has vast dark powers and is the most feared being in existence. Yeah he fits this spot perfectly 
Multiversal Conqueror: He seeks to dominate the Omniverse and reshape it in his own image. He had also conquered, destroyed, and corrupted worlds beyond counting. 
Archenemy: Mainly to Legend/Hyperiel as they do have a history (besides Malroc), he killed his father (Deus) hatred to corrupt his apprentice Jack Spark. Brutally tortures him when he had him captured, and had fought each other more often than Malroc. Jack is just a annoying pest to Nekrozoth and is no threat to him (that proved to be his downfall).
Bad Boss: Though an expert strategist and has at rare times be friendly to his allies, but he is not be be mistaken as he often tortures his own minions if they fail or just to entertain himself. 
The Sociopath: Manipulates his allies for his own gain, Lacks any sign of empathy, Is extremely violent, and only cares about himself. He enjoys making others suffer for no apperwant reason.
Badass Boast: "You are nothing, just minor characters while I am the damn protagonist. You see? It's all about me and only me not you. You're merely a worthless garbage thats deserve to be in the dumpster. You're nothing, just PURE SHIT."
Eldritch Abomination: His name is incomprehensible to any mortal being, has exist ended before time and can take on many forms.
Reality Warper: He is Omnipotent after all. 
Ax Crazy: He goes bonkers during his defeat, Nekrozoth will never accept defeat of any kind, as he stated if the heroes will give up until his mission is complete so will Nekrozoth. 
Evil is Petty: Legend stated that he can hate people for petty reasons like how he hate his brother Deus for not letting him rule. Nekrozoth had shown to be hate the Sparxians for not joining him during the Alpha Omega War and the Omniversal War so he had them extinct due to that. He doesn't join Azoth sole because his goal is far different from his as Nekrozoth's goal is complete omnicide while Azoth's goal was to plunged the Infinite Multiverse into eternal hatred and wrath.
The Corrupter: Has corrupted helices of Bill Cipher, Lord Dominator, and Lucifer and various other villains. 
God Emperor: He is a god, well ,more than a god, but still a god who rules his own pantheon (prime omegas) but seeks to rule more when it comes. 
Manipulative Bastard: Had mad Navirous join and worship him by taking hhis hatred towards humanity as a advantage. Uses Remiok to kill the innocent and drives him insane, made Malroc his apprentice and made him Pure Evil and had done so to many other villains to. He convinced Cain to kill his brother Abel and made him immortal due to that. Though he haven't display this until Phase 6. 
Dark Messiah: to his most loyal followers like his own disciples called, well, the disciples of Nuron (his other name). they view him as some sort off cataclysmic destroyer trying to cleanse the Omniverse of the weak hearted (good people) and Inferior species (humanity, Sparxians and other beings they don't like.). They also follower his every will so that would become gods like Nekrozoth. Lord Dominus joined Nekrozoth because he made him a god, Remiok was granted a chance to get revenge on his killer, Navirous was promised the destruction of Humanity and other villains joined him because they are flat out power hungry. 
Expy: Multiversal Legends, mainly Deus and Nekrozoth was based on the lore and characters of World of Warcraft with Nekrozoth being named after N'Zoth, an evil Old god. He was also inspired by MCU Thanos a few years ago before infinity war came out when Thanos was manipulating events across the MCU. Sargeras, another warcraft character, was also an inspiration to Nekrozoth as he was a fallen divine being and became a powerful dark force of destruction, he also leads a horde of daemons hellbent on destroying worlds (though his intention was to stop a greater evil known as Void Lords). (but to be honest myself i never played World of Warcraft just watch videos of it-BrandonDarkOne47). 
Drunk on the Dark Side: He relishes on his evilness and had succumb to darkness and a desire for power being more so than Malroc and Aka Manah. He often boasted on how evil he is to show that being bad is really bad at all. 
You Have Failed Me: "failure is punishable Remiok, and you wouldn't want to fail me don't you.?"
As long it's not a misstep then you're good, but doesn't actually mean you won't getaway without any punishment. When Lord Dominus failed him on bringing him Jack Spark, though it was't really important to the plan just so that he can make Legend suffer, Lord Dominus really had a rough time as he was banished to the Realm of Complete agony (damn). 
Remiok was sent to destroy Garlandia but thanks to the champions he was forced to retreat. He can't feel pain, but from Nekrozoth it felt like hews in the nine circles of hell rolled into one
Do Not Taunt Cthulhu: Seriously don't, he is not a man to be miss with (if he is a man at all). Jack leaned the hard way when facing him, easily had his ass clapped. Devon to (who is the son of Daevas HIMSELF) taunt him but was easily defeat. 
Nekozoth; "You are the son of Deavas? A child with a sword? (Devos: a child who can kick your ass as easily as my dad can.) Well I'm afraid your arrogance is misplaced boy."
Names to Run Away from Really Fast: Yeah make a deal with a being who name is Nekrozoth or that this tile is "The Creator of Evil", He sure won't kick a puppy or burn some orphanages just for fun.
For the Evuls: He did all of these atrocities when he became the god of evil just because he can, when he fought deus, Deus was Really mad at Nekrozoth for corrupting his son, ruining all of his and the other Alphas hard Work, and causing mass genocide to the other Alphas. Nekrozoth fought back, and gloated that he did so and explained that he didn't do this because he was a bad Alpha, he did it because it was fun to him. He even told Deus that he knew how to be good, he knew all about it and could have been a good ruler but he denied his chance and decided to remain evil, and after he's done with him, he would kill him and the other alphas so that he can gain their powers and abilities to become more powerful, and maybe do the same with the Omegas. He even revealed to Deus that the new soldiers were actually respected, corrupt angels he called "Fallen Angels" which caused Deus to snap. 
Knight of Cerberus: The series was already dark when Aka Manah came in, but at times Aka manah become comedic. Nekrozoth on the other hand is purely sadistic and is often serious, showing no tolerance on humor which to him is distracting. He goes so far as to wipe the entire omniverse so he could remold it in his image even if everyone dies or suffer.
Psychopathic man child: Nekrozoth at times at like a magnificent bastard, and an omnicidal mastermind to a psychotic man-child every time things don't go his way.
Evil Cannot Comprehend Good:Though he can comprehend good, he doesn't understand why Thanos didn't want to join him. It is revealed that Thanos knew the consequences on going Nekrozoth and decided not to join him .also Thanos only wants the Chaos stones so he can make the omniverse better even if it means oppression and tyranny and is selfless while Nekrozoth is merely y sing his followers and allies for his own means and wants to use the chaos stones for selfish reasons.
In Their Own Image: The reason why he wants to commit mass omnicide on the entire omniverse is so he can remake it in his own image where evil always win and that he can finally do what ever he wants.
I Have Many Names:A whole bunch of names, Nekrozoth obviously been called many things for his many years of terror and atrocities. His most favorite actually (and being literal) is the Creator of Evil and Chaos as he does relish on the anarchy and destruction he cause.
Lack Of Empathy: Really just try to scold him for his actions, do you really think he gives a damn.
You Have Outlive Your Usefulness: He will do this to his minions and Allies after he active his goal.
Foil: To Legend and Deus of course. He shares this with Malroc, Legend is a being who is purely good (not perfect but good none the less) along wit his dad Deus, they want to bring order and peace across the Omniverse. Deus is also the Prime Alpha of Good, Creation, Order, and Peace. Nekrozoth however wants to rule amongst Mortals as he believes that what they were made for, to be slaves to being higher than them. Also he wants to bring chaos, destruction, and evil across the Omniverse unlike the two and he is a irredeemable monster. He also share some similarities with his nephew Legend, mainly they pick up people who the see worthy and trains them as their apprentices to become their replacement if one of them ever died. The similarities ends there, as while Legend treats them with well with respect and honor, and even cared for his apprentices, Nekrozoth mistreats them and brainwashes them so that they could be as worse as he is even abusing them.
Necromancer: Necro is in his name but with a K, he was seen using necromancy to resurrect Aka Manah and Remiok and other villains.
Berserker Button: Don't EVER mention redemption or Hyperiel or anything he dislikes or you will face his wrath QUICKLY. And Oh to redeem yourselves or show empathy or remorse as well or else you be sent to the torture chamber.
God of Chaos: Being the son of Velnias after all, who May I remind you is a god of primordial Chaos and Mayham.
Playing with Syringes: Before getting the stones, he have numerous psychic children to be kidnapped and experimented own for his new breed of soldiers through brutal and atrocious means. He have bak energy known as chaosium and invest them unto several children which transformed them into mentally unstable monsters known as Nekrozorians. The process was brutal as Chaosium was not meant to be experimented on children but Nekrozoth simply did it so that he can easily brainwash them.
As Long there is evil: As Long as evil and chaos exist and no matter if he dies. Nekrozoth would always hunt the souls of life tislef and would always find a way to return (kaloth for example). Besides without him evil would cease to exist as it needs someone to be the source of it all, in other words being evil incarnate.
Fantastic Racism: He is very racist towards the Prime Alphas despite being one himself, he even regard all mortals as chimps, gorillas or even monkeys.
Narcissist: Depite being a deity himself, even he has a God Complex believing he could active a higher plan of existence. Well since Daevas is higher than the Alphas and Omegas he could be possible for him to active this. He outright stated that he is so much more than a God.
Fatal Flaw: His Ego, Narcissism, and Arrogance is this. Being All powerful makes it his greatest strength as well as his greatest weakness, he as stated before, thinks he could achieve greater power by absorbing the Chaos Stones.
The Exile: After the Alpha-Omega Wars, Nekrozoth was banished to the HECK Realm as a punishment for his misdeeds. He returns but not his true for though.
Hypocrite: Depite being the leader of the Prime Omegas and declaring that the Prime Alphas as inferior counterparts, he's a Prime Alpha himself. Well half ever since he join the Omegas.
Obviously Evil: His appearance alone and his title makes it clear he wants nothing to do with peace or anything good.
Would Hurt a Child: Kdinapped several children who possessed psychi abilities and mutated them into his Mind Killers. He seem to also enjoy torturing them as well even made a game show center around child murder.
Walking Wasteland: Brings destruction where ever he goes. Each universe become a a hellhole after he conquers them for his empire.
Glowing Eyes: Possesses glowing red eyes.
Bald of Evil: He does have hair at times in different forms but is mainly bald.
Kill'Em All: Killed the almost Sparxians and Plans to do the same for the Prime Alphas.
Classic Villain: He embodies Wrath, Ambition, Greed, and Pride.
Evil makes you ugly: His true form is split into two separate parts, one looks divine while the other side of his form looks like a daemon. It was sated that his lust for power corrupted him and only possess half of his divinity.
Light is not good: His one half of his true form is divine.
Dark is not good: The other Half looks like a daemon.
Driven by Envy: He was jealous of Daevas's powers and his brother, Deus's, leadership. his jealousy is what drove him to evil.
Sealed Evil in a Can: His true form is mainly trapped in the HECK Realm.
Cold-Blooded Torture: Prepare for your pain because Nekrozoth would NOT show signs of mercy unless you do as he ask. Either way, your torment would be the worst experience you will ever have.
The Power of Hate: His powers is actually powered by his inner hatred towards all life inside him.
Physical Appearance
Nekrozoth has (as stated by others) taken many forms through centuries, as he can appear whatever he likes. he main appearance is that he possess yellow armor with an Omega symbol on his chest, he also has a red cape and mostly has long white hair. He has glowing red eyes with black liquid coming out through his sockets. His skin being albino and deathly pale. On his head is fire coming through a crown he possesses, he is also as muscular as Shao Kahn, Thanos and/or Darkseid. Nekrozoth's neck is made of metal which could imply that he made himself a cyborg.
Major Conflicts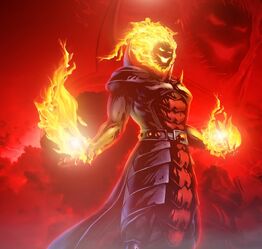 Origins
Zoth vs. Father Zeran
Zoth vs. Mother Heras
Zoth vs. The Nekrus Guard
Zoth vs. Defender of the Nekrus
Zoth (evolved form) vs. Derun - First Battle
Rupture of the Nekrus
Zoth (evolved form) vs. Derun (evolved form) - Second Battle
Zoth the Antigod's Conquest
Zoth vs. Lord Jero
Zoth vs. Lord Ether
Zoth vs. Larrus Neruthia
The Nekrun Alliance
Zoth vs. Maggie Carter
Zoth vs. Vekkisul's Legions
Zoth vs. Dark Oracle
Zoth vs. Derun (100% power) - Final Battle
Old Omniversal Arc
The First Slaughter
Nekrozoth vs. Sparxian Arch King
Nekrozoth vs. Jack Spark (young)
Extermination of the Sparxians
Decimation of the Anellas
Nekrozoth vs. Prime Cetos
Nekrozoth (cosmic form) vs. Bill Cipher (nightmare form)
Nekrozoth vs. Cetos Amassius
Nekrozoth vs. Omega Ahriman
First Omniversal Civil War
Nekrozoth (nightmare form) vs. Scarlet King (full form)
Nekrozoth vs. Deus - First Battle
Nekrozoth vs. Alpha Ammasius
Nekrozoth vs. Superman
Nekrozoth vs. Aka Manah - First Battle
Nekrozoth vs. Manah's Empire
Nekrozoth vs. Deus - Second Battle
Second Omniversal War
Nekrozoth vs. Alpha Omas
Nekrozoth vs. Alpha Volcan
Nekrozoth vs. Justice League
Nekrozoth vs. Shao Khan/Outworld Empire
Nekrozoth vs. Aka Manah - Final Battle
Nekrozoth vs. Sorcerer Supreme
Nekrozoth vs. Human Resistance
Nekrozoth (nightmare form) vs. The Ancient One
Nekrozoth vs. Malroc (full form)
Nekrozoth vs. The Gunslingers
Nekrozoth vs. The Crimson King
Nekrozoth vs. The Celestials
Omniversal Wars
Nekrozoth vs. Alpha Marius
Nekrozoth vs. Batman
Nekrozoth vs. Avengers
Nekrozoth vs. Alpha Jeruian
Nekrozoth vs. Mithra
Nekrozoth vs. Chernobog - First Battle
Nekrozoth vs. Alpha Orian
Nekrozoth vs. Alpha Derius
Nekrozoth vs. Alpha Resistance
Nekrozoth vs. United Omniversal Republic/U.O.R.
Nekrozoth vs. Deus - Final Battle
Nekrozoth vs. Alpha Ravus Prime
Personality
"
Jack Sparks: What, is he worst than Aka Manah?

Legend: Let's put it this way. Aka Manah is a goat. Nekrozoth's the whole damn herd.

"
~ Legend warning Jack about Nekrozoth.
Nekrozoth is the Champions most dangerous and evil enemy they have ever faced and the main reason on why they exist. Nekrozoth personifies the concept of "Nature Vs. Nurture", with him embodying Nature. Nekrozoth as born evil even though many claimed it was because his mother never show love or compassion towards him. However, Xeron and Lighterion claims he was always like this as at least his mother's maid showed some love towards Nekrozoth. She tries her best to teach Nekrozoth do the right thing in his youth, but he simply ignore her and only used her teachings as a way to avoid trouble and using others for his own ambitions. In his youth Nekrozoth was a prodigy and even caught the attention of scholars, philosophers, and even scientists. He was also exceptionally manipulative as he convince other to his cause through persuasion, but he would also use black mail if it doesn't work. Nekrozoth was best known for his outrageous bigotry and racism towards the Prime Alphas, believing their ways of peace and order as a way to show weakness and cowardice.
He is diabolical, self centered, cynical, unscrupulous, argumentative, psychopathic, merciless, psychotic, wicked, sinful, heinous, incredibly murderous, extremely ambitious, barbaric, vicious, ruthless, uncaring, treacherous, unforgiving, callous, vain, unapologetic, bitter, narcissistic, spiteful, cruel, monstrous, omnicidal, xenophobic, misogynistic, and horrifyingly sadistic. Nekrozoth seeks to only destroy the entire multiverse so that he could mold it in his dark image where he reign supreme in a multiverse of madness and death. He rules his empire through fear and intimidation as he displays cruelty and unpredictability to maintain control over his minions as way to prevent any rebellion or defiance. He does not tolerate any form of resistance, espionage, or treason against his rule as he would put down with extreme force and aggression. Nekrozoth demonstrated his authority over the Omegas by punishing a fellow omega for disobeying orders as well as disrespecting him by putting the omega (named D'Loki) on an meteor by being changed up there and flung him to the sun where each time the omega gets closer to the sun he'll be burned alive.. Unlike the Prime Alphas who favored order and creation, Nekrozoth favored chaos and destruction more which became one of his more dominant personality.
He is very arrogant and egotistical as he believes to be the "Superior Life-Form", and believes that he is the would-be supreme being of his new multiverse and thinks he is above most beings including his brother Deus (who is his rival and half-brother). Nekrozoth would later learn how to control them since they became one of his fatal flaws since during the War for the Chaos Stones arc where he had all of the chaos stones and finally gained ultimate power but foolishly remove them once he finds out he accidentally resurrected the heroes he killed, arrogantly believing he is powerful enough to kill them without harnessing the power of the Stones. That attempt caused him to be destroyed the first time, but he later returns and learns how to control his arrogance and ego since he doesn't want it to cause his downfall. Nekrozoth, despite being full omnipotent, knows that beings such as Daevas, Vekkisul, and Hollister are more powerful than he is and others that could rival his power making him wary around such beings that could hurt him if he is not careful.
Nekrozoth possess incredible amount of intellect as he is a military genius while being mostly a megalomaniacal tyrant. He has several accounts of successful takeovers of numerous worlds while also influence many other hostile takeover to further his goals. His empire expands across the infinite multiverse having brutal rulers and oppressive allies armies to his disposal. Nekrozoth display an impressive amount of scheming, as he carefully orchestrated events stemming from atrocities like the 2016 Ebola outbreak in Africa, the Holocaust, the creation of the nazis, humans trafficking, and was responsible for creating concentration camps, slavery, racism, genocide, and many other bad things since everything that is consider evil was created by him. Nekrozoth in his spare time would cause wars from planetary to multiversal just for his own amusement along with making Faustian deals in order toga more followers for his army. He has been known for being a great strategist along with being a master tactician that use fear and propaganda to maintain his chaotic rule over is own empire. Nekrozoth is not a lawful evil being as he mainly wants to purge the multiverse of law and morality despite his oppressive, authoritative, and tyrannical nature. He is very skilled in the usage of propaganda and lies as he convince the prime Omegas to go to war with the Prime Alphas as a way to gain more power. His lust for power and dominance is what sparked the Alpha-Omega Civil war, as he used the Prime Omegas hatred towards the Alphas as a means to an end for dark ambitions which soon leads him to become their leader later on. He preaches how the alphas (other then himself) are inferior, foolish, and unfit to rule and how all of them should be either killed off or enslaved. Nekrozoth greatly prefers to manipulate weak minded mortals like warlord, tyrants, terrorists, overlords, conquerors, and super villains as they are easier to manipulate but he is capable of manipulating heroes into turning them into the dark side like how he did with Malroc and many others. He would mainly sound dark but also intelligent, only speaking like a soft spoken sadist unless he gets agitated or angered. Nekrozoth is quite calm, cautious, and mostly smiles at the worst situation. He often pretends to be a affable, cheerful, and gregarious person to those he would manipulate until he would show his true colors and do away with them when they're role is finished. Nekrozoth is very skilled in many arts of combat and his intellect have even surpassed even his two brothers Lighterion (god of science) and Xeron (god of magic) as well as many villains like Master Onslaught, Grandmaster Chaos, and Malroc. Nekrozoth is very persuasive, conniving, highly competent, sophisticated, resourceful, capable, deceptive, very cunning, and an absolute brilliant mastermind along with being traitorous, manipulative, exploitative, calculating, dishonest, devious genius who can learn from his mistakes. His intellect is one of the main reason of his arrogance and ego and would gladly out wit his enemies while cheerfully smiling.
As intelligent, sophisticated, soft spoken, and manipulative as he could be, Nekrozoth has a very short temper as he could be easily agitated, angered, and wrathful which leads to unpredictability. This usually shown if his plans don't goes as follows, someone questioning his authority, looking at him funny, criticizing his ego, or done or say something that he doesn't approves on, and many others. Another thing that angers him is both gods breeding with mortals as he finds it disgusting and see what they produce as abominations (Though he is a rapist himself), and seeing people touching his personal collections of either the skulls of his enemies or artifacts he personally collects for unknown purposes besides being mere decorations. But the one thing that actually really, really, really, angers him is the concept of redemption as a whole. He sees it as a mockery to the forces of evil as seeing the villains he worked so hard on corrupting turned to waste as well as the hard work he put in concocting evil schemes or missions he had his minions go through to only have them "betray" him and join the side of good. Nekrozoth also sees it as a cowardly concept for villains who are to weak and incapable to push their limits of committing evil further. He utterly despise it so much he even banned it from his empire while threatening the members with death or brutal torture. His hatred stems from his father who also hates it possibly as much Nekrozoth does. He is very childish as well since he acts immature at times and had his tantrums being often compared to being that of a whining spoiled child. Nekrozoth even acts like a immature spoiled brat when things don't go his way as he always resulting to destroy things he can't conquer while also demanding to be worship nonstop. 
Nekrozoth often calls himself a man of culture, as Nekrozoth does have a taste of art and culture as he collects ancient artifacts of power and paintings, one of whom is his most favorite being the painting "Saturn Devouring His Son" being painted by Francisco Goya. Nekrozoth was himself a renowned artist who loves making sculptures or paintings of either himself or his enemies being killed through many horrific ways though he mainly creates creepy demented arts. He often uses blood for his paintings and corpses for his sculpture. Nekrozoth could even make his own weapons without having his half brother Artillery to make them for him. Nekrozoth would also read Gothic stories with twist endings with either the bad guy wining or the protagonist falling in despair. Nekrozoth can also make a fancy dish for himself, though the dishes are also made out of the body parts of his enemies (or subordinates). 
Nekrozoth is a type of person who take sadistic remark for torturing both his own enemies and his own comrades that fails him. He takes pleasure and joy of the worst possible type of torture, such as how he counted down the various types of torture to Jack like mental, physical, and maybe emotional methods that only the most twisted being could think of. Nekrozoth's sadism shows know limits as he takes delights in seeing others suffer through many devastating ways. One of them is when Nekrozoth would destroy each universe and remake them into a living hellhole filled with monsters and polluted areas so that the inhabitants would have to fight to survive. Nekrozoth had also orchestrated several wars, cataclysms, and may other disasters across the Multiverse for his own entertainment and having to use his powers to destroy millions of universes to show his authority and power over them and to demonstrate his superiority towards all living beings. Nekrozoth would also have the captured Prime Alphas work at the HECK Realm (A second Hell he created but worse) mines for the rest of their lives instead of killing them. Nekrozoth would also slaughter half a universe so he could make room for his War factories and his Omega corporations that would fund his war against the entire infinite multiverse. Nekrozoth would have children do slave labor as well as lobotomize slaves in becoming his mindless drones. Another case is when he had stored the souls of innocence into machines so that they could produce more weapons and killer robots. Probably his most sadistic and infamous hobby of his is his completely callous and immoral scientific experiments where he atrociously tortures innocent people without any sign of remorse or pity.
Nekrozoth despite being a being above good and evil as he "created" the concept of evil, He is driven by a bizarre belief of having the most vile and wicked should rule over the weak while the ones home he see as feeble should be slaves under the strong or simply killed off. To gain power to is to be as malicious, horrendous, while also being as selfish, careless, and despicable as possible. He doesn't treat evil as a mere concept but as a belief and philosophy to follow he created. Mainly Nekrozoth views good as concept designed by the weak to limit the power of the strong, seeing only the Complete Monsters as the strongest to his eyes. Nekrozoth doesn't find anything special about the multiverse as he is very nihilistic simply because he is aware that he is a fictional character which makes him mad at the thought that he is not real and is simply being a so-called pawn to the Hollister (the creator of the Multiversal Legends mythos). He is completely obsessed with revenge, nihilism, genocide, power, death, and destruction as they are the only things that could bring him joy in the reality he has to live in. Nekrozoth does not fear death what-so-ever, he sees it as a joke and scoffs at the idea of dying. Proven as when he got stabbed throw the chest by Jack Spark and respond by simply laughing maniacally while coughing out blood while later falling to the floor dead. Nekrozoth reason for not being afraid of dying is because of his multiple back up plans of coming back from the dead in case he ever dies.
Nekrozoth does however have a twisted sense of honor like for example he showed "respects" towards his nephew Legend by sending him the head of one of his old friends he killed before Legend reincarnated just to taunt him. He sees cheating is honorable as well since Nekrozoth never plays fair and use cheap tactics, and dirty fighting as a means to win. Nekrozoth once possesses Jack Spark's sword and used it against him and one time teamed up with Grandmaster Chaos and fought Legend together mercilessly. Even if Nekrozoth does kept his promise he would simply a supremely cruel deal with the devil type bargain or false promises like when he promised Braxxom ruler-ship over the Earth and kept it only because Nekrozoth knew that it would be destroyed any ways with Braxxon in it so Nekrozoth didn't have to kill Braxxon or the planet at all. Another example is that Nekrozoth let the universe of Omicron-Alpha Prime be as "promised" only to hire the Chaotic Elites to invade it and leave no survivors as while making it like that Nekrozoth wasn't involve at the incident.
Though despite all of his ruthlessness and harsh cruelty to every living being he comes across, he does show respects to his uncle and admires him only due to his equally corrupt and power-hungry ruthless nature. Nekrozoth, no matter how much he hates him, does care for his nephew albeit in a disturbingly twisted way. He was a little disappointed that Legend was his brother's son, and often wishes that he was his instead and even stated he would have been way better to have than his other children on his side. Going so far that he acknowledge that Legend is a powerful being that could potentially rival if not surpass him in the future and truly wants Legend to be on his side because of it. Though it could be because he using Legend as a revenge by proxy so he could corrupt him and use his immense powers to further his own goals. But as stated before, he overall "love" for his nephew is extremely twisted and amoral as Nekrozoth have attempted to brainwash him into doing despicable deeds, tried to undo every good deed Legend has preformed or even make them turned bad. Nekrozoth also has brutally tortured him, and often spite him several times for sadistic pleasure and at times shown true hatred towards Legend when he ruins his plans. Nekrozoth's one goal is to mentally break Legend, corrupt his nephew with no way of recovering, and try to remove every single humanizing factor he has. Nekrozoth often taunts his nephew of his "petty" morals, and mocks him on how many times he fails on saving the people he cares about.
Nekrozoth DID almost gotten a redeeming quality through Mesmera who attempt to make Nekrozoth soft. Nekrozoth ALMOST fell in love and cared for her until he learns that he is becoming soft so he sold Mesmera to slavery never to be seen again. Though Nekrozoth did gain emotion (though he never felt remorse for the act), he only uses it to be more manipulative to make him look more trustworthy to others.
Victims
People Nekrozoth killed
Deus (Indirectly)
Captain Marvel (decapitated)
Iron man (decapitated)
Hulk (strangled to death)
Thor (decapitated)
Vision (decapitated)
Captain America (decapitated)
Super Man (exploded through a cosmic bomb)
Cyborg (exploded through a cosmic bomb)
Wonder Woman (exploded through a cosmic bomb)
Batman (driven to suicide)
Numerous Alphas
Quadrillion lives of all the living organism
The entire Sparxian race (indirectly
Powers and Abilities
Quotes
"
Nekrozoth: Oh brother, You're always daddy's favorite for weakling such as your self.

Deus: Why... what I ever done to you? All I've done was show you kindness and support. I even tried to defend you from dad! Why must you do all of this!?

Nekrozoth: because you were Always his FAVORITE and I'M ALWAYS HIS MOST HATED Son! And when you traitors escaped, I was left... With... HIM!

Deus: No, I tried to come back and save you as well. But Endgame wouldn't let me. He said that Velnias was too powerful to fight.

Nekrozoth: Too Strong? I've EASILY killed him while HE was hibernating. Hell if that was ever so true, I honestly wouldn't give two shits. I'll destroy your "Multiversal Legends", torture every single Beast you've created, and start all over again from the top. Over and Over again, Just to piss you off.

"
~ Nekrozoth to Deus
| | | |
| --- | --- | --- |
| " | Let Me explain my part here Malroc. If there's a Dragon or in this case YOU, then their must be a mastermind. I'm the Mastermind, and you... the Dragon. Though you are mostly a pawn to me. Hell everyone is a pawn IN MY GAME. | " |
| | ~ Nekrozoth to Malroc revealing that he controls every villains actions. | |
| | | |
| --- | --- | --- |
| " | Hello Old Friend... | " |
| | ~ Nekrozoth finally meeting Aka Manah after Aka broke free. | |
| | | |
| --- | --- | --- |
| " | My fellow Villains, It came to my attention that our great enemy, Legend, has finally fallen at my feet. bring him here! (chains being left revealing Legend with his hands tied up) Soon this scourge shall be extinguished for good but first let us enjoy his suffering. Begin! | " |
| | ~ Nekrozoth sentencing Legend to be tortured. | |
| | | |
| --- | --- | --- |
| " | Little child, do you even know who I am? (Jack Spark: A Jack Ass?) I am the Destroyer! The Conqueror! My body is made of Light while my blood is Darkness! I'm a God and if you dare try to strike me then I'll Strike you Down! | " |
| | ~ Nekrozoth introducing himself to Jack Spark | |
| | | |
| --- | --- | --- |
| " | Zartath, you are going to Shao Kahn's fortress to help him (Zartath: I don't think he'll want that) then make it his own demise! Him and his petty obsession. | " |
| | ~ Nekrozoth sending his son, Zartath to met Shao Kahn while proving his disdain towards animals. | |
| | | |
| --- | --- | --- |
| " | (Raiden: I've seen evil, but you.. you are just PURE Evil incarnate.) Pure Evil? Raiden, I invented evil!" | " |
| | ~ Nekrozoth to Raiden after he calls him evil | |
| | | |
| --- | --- | --- |
| " | Redemption is for the Weak. | " |
| | ~ Nekrozoth's deep hatred towards redemption. | |
| | | |
| --- | --- | --- |
| " | "YOU DON'T KNOW ANYTHING ABOUT THE SURVIVEL OF THE FITTEST!!! IN ORDER TO SURVIVE THE MULTIVERSE I'VE TRIED TO RESHAPE!!! IT WOULD HAVE TO TAKE THE MOST VICIOUS, DESTRUCTIVE AND THE MALICIOUSLY CUNNING LIVE!!!" | " |
| | ~ Nekrozoth rejecting his chance of redemption to his son Charles before trying to kill him. | |
| | | |
| --- | --- | --- |
| " | Mortal, your lives as the most dominate lifeforms on the Omniverse is Over! It is time to make room for the New Era. My Era! Where morals are meaningless and order is outlawed. You were made only to serve your creators not to roam around, destroying what we created. It is time for us to reign over you, it's our time to rule as we were made to do. Praise your new masters for we are the Alpha,. If you refuse then we shall be your Omega! | " |
| | ~ Nekrozoth after gaining the Chaos stones. | |
| | | |
| --- | --- | --- |
| " | "I am the Eater of Worlds, the Conqueror of Civilizations, the harvester of Universes, I show no mercy to death nor remorse for pain. Attack me then you will be strike down! Scorn me then I'll slit your throat! Rebel then I will surely put you down for good! For this! Is! My! Will!!!" | " |
| | ~ Nekrozoth | |
| | | |
| --- | --- | --- |
| " | "Killing is my thing, you'll get used to dying after I'm done with you" | " |
| | ~ Nekrozoth to one of gods fighting him. | |
"
Nekrozoth: Aka Manah you're not so different from me.

Aka Manah: What the hell you're talking about?

Nekrozoth: well you see? Like you, my own kind reacted me, cast me out, all because I couldn't control my powers. They feared me, tortured me, and HATED me. They turn me to this way and for that I thanked them. iIthanked them for turning me into the monster that I always wanted to be.

"
| | | |
| --- | --- | --- |
| " | Listen and Listen well boy. I'm not the bad guy of this story, no I'm far worse. I'm the MONSTER OF THIS ENTIRE SERIES PULLING THE SRINGS HERE. | " |
| | ~ Nekrozoth acting like a card carrying villain to Jack Spark | |
| | | |
| --- | --- | --- |
| " | "When I want to get things BLOODY, you have to get it RIGHT!!!!!" | " |
| | ~ Nekrozoth upon hearing a failed attack on planet Earth. | |
| | | |
| --- | --- | --- |
| " | Now listen here you big black cock. Only one can rule this omniverse and thats me. Do you even KNOW how close I came to win? VERY DAMN CLOSE. And I'm not going to let some black dildo like you to stop that. SO PISS OFF AND GO BACK TO WHAT EVER HOLE YOU FUCKING COME FROM! | " |
| | ~ Nekrozoth to Vekkisul. | |
| | | |
| --- | --- | --- |
| " | Has nobody heard of Me? Damn you humans are very Naive... or should I say very Ignorant. | " |
| | ~ Nekrozoth to humanity. | |
| | | |
| --- | --- | --- |
| " | "I really need to do something with those Idiots." | " |
| | ~ Nekrozoth upon hearing about the failure of the Red Pyramid faction | |
| | | |
| --- | --- | --- |
| " | "soon the time is at hand. Once I find all of the Chaos Stones, we will be free from the Fear of Daevas's wrath. All of creation will turn to ashes upon the death of the Light. Ichor (golden blood of the gods) will be spilled across thousands upon thousands of stars. wings of the angel kind shall be ripped apart from their BACKS. Screams of the innocents shall be heard throughout the Omniverse with the blood of my brothers at their hands... all things REDEEMING SHALL BE VANQUISHED AND BURN IN THE FIERY PITS OF OBLIVION!!!! AND THE DEAD CORPSES OF THE GODS SHALL RISE AND SERVE ME AND ALL OF THE SURVIVORS OF MY COMING APOCALYPSE SHALL KNEEL TO THE GREAT NEKROZOTH AND SHALL DRINK THE DARK WATERS OF THE DARKNESS!!! ALL HAIL VELNIAS!!! ALL HAIL ME!!! DEATH TO THE CREATOR!!! HAIL TO THE DESTROYER OF WORLDS!!!" | " |
| | ~ Nekrozoth's most famous speech | |
| | | |
| --- | --- | --- |
| " | (Aka Manah: Are you all this stubborn? I am unkillable! I AM A GOD!!!) Ah! Aka Manah, Evil Intention personified. I find it fitting that one of the Personification of Evil is battling The CREATOR OF EVIL. Say Ahriman hello after I'm done with you, and say that he should make an entity worth my time. | " |
| | ~ Nekrozoth to Aka Manah before their fight. | |
| | | |
| --- | --- | --- |
| " | "Your universe dies along with the rest... if you surrender then I'll change my mind" | " |
| | ~ Nekrozoth | |
| | | |
| --- | --- | --- |
| " | I was once an Alpha, Then I turned to the Omega, now.. I am the Alpha and the Omega. | " |
| | ~ Nekrozoth explains his backstory. | |
| | | |
| --- | --- | --- |
| " | You are the son of Deavas? A child with a sword? (Devon: a child who can kick your ass as easily as my dad can.) Well I'm afraid your arrogance is misplaced boy. | " |
| | ~ Nekrozoth being confronted by Devos, the son of Daevas. | |
| | | |
| --- | --- | --- |
| " | "Hell is just the beginning. Wait until I send you to Oblivion." | " |
| | ~ Nekrozoth | |
| | | |
| --- | --- | --- |
| " | "The End of all things is at hand. Remiok! Prepare my Forces, we are leading my crusade to the high Heavens" | " |
| | ~ Nekrozoth preparing to invade heaven. | |
| | | |
| --- | --- | --- |
| " | You are nothing, just minor characters while I am the damn protagonist. You see? It's all about me and only me not you. You're merely a worthless garbage thats deserve to be in the dumpster. You're nothing, just PURE SHIT. | " |
| | ~ Nekrozoth's narcissism. | |
| | | |
| --- | --- | --- |
| " | You know what I just notice? Every time I win, you never give up. Now why is that? Just WHY do you even want to save all those SELFISH, NAIVE, IGNORANT, and STUBBORN mortals. Hell you would die for those who...You know, would just continue living their lives UNTIL, a bigger threat comes along and repeat the paternal over again. And again. And AGAIN. See what I mean, this is why I never wanted to be a damn hero. Waste of time, and a waste of your life to spend. You got a family to bag out with, NOPE, to busy saving the world! Got a job, skip it by making a fucking excuse to leave or fucking call sick! Got education. Skip school for the lives in danger! That is why my followers serve me, to avoid the tragedy of being HEROES, and the why the Omniverse is going to die. By my hand of course. | " |
| | ~ Nekrozoth expression his inner hatred on being a hero. | |
| | | |
| --- | --- | --- |
| " | you know what Azoth, you may have a point. First I'll destroy the omniverse and remold in MY image while you can do.. what ever you do best. | " |
| | ~ Nekrozoth having second thoughts. | |
| | | |
| --- | --- | --- |
| " | (Vekkisul; And you broke our allegiance. As expected.) Like I said before, only one gets to Rule and that is why I won't let you ruin it. | " |
| | ~ Nekrozoth betraying Vekkisul. | |
| | | |
| --- | --- | --- |
| " | Oh Aka Manah, I had high hopes for you. you see unlike the others who betrayed you, mistreat you, and abandon you, I though you would succeed your creator. Ahriman was actually a fool to doubt you, you were more cunning than him, more manipulative, and more vicious than him. You have surpass your creator that's why I chose you as an ally. However, since you tried and failed to betray me I changed my mind. Apparently Ahriman was right, you are nothing but a waste to him. Nobody does for a reason, and they have GOOD reasons not too. | " |
| | ~ Nekrozoth while torturing Aka Manah. | |
"
Legend: Come On Bitch If your so powerful than face me like a man!

Nekrozoth: Please, I can crush you with one blow even without the stones. (drops the stones) now, shall we being.

"
~ Nekrozoth arrogantly removes the stone as he believes he can kill Legend without them.
| | | |
| --- | --- | --- |
| " | No, no, GOD FUCKING NO!!! I Am NOT GOING TO LOSE TO THE LIKES OF YOU SHITBAGS! | " |
| | ~ Nekrozoth about to be defeated. | |
| | | |
| --- | --- | --- |
| " | Time to DIE... (transforms into a monstrous daemon) | " |
| | ~ Nekrozoth in his final battle. | |
| | | |
| --- | --- | --- |
| " | 924y45646987437yvrfb4h8bhjvbufh378evrhw3eb...!? | " |
| | ~ Nekrozoth last words translated to (How could this be happening...!?) | |
Pertaining to Nekrozoth
| | | |
| --- | --- | --- |
| " | You think I'M the Bad Guy? Surely you must be naive Spark-boy, Nekrozoth would make me look like some common criminal! | " |
| | ~ Aka Manah to Jack Spark. | |
| | | |
| --- | --- | --- |
| " | All evil comes from him. Even the devil fears the Anti-God. | " |
Gallery
Trivia
He is the evilest deity in the Omniverse and the Multiversal Legends franchise and the most powerful evil being to since he invented all evil and has zero positive, redeeming, or honorable qualities which makes him a complete monster. He crosses the moral event horizon daily and due to him the the absolute creator of evil.
He seems to also suffer from Cluster B personality disorders.
Nekrozoth got the named from a word of warcraft character named N'Zoth who is an evil old go from the Warcraft games. BrandonDarkOne47 mold him after Sageras (also from World Of Warcraft) but without the redeeming qualities and made him completely evil. His look was inspired by a villain form pop tropic named Oregon. Nekrozoth wold later get some inspiration from Darkseid, Emperor Plapatine and Zalgo.

He is the big bad of the series because he was the one that caused all the evil in the first place, he caused almost every villain to join the side of evil, and orchestrated mot of the conflicts and carnages happening across the Omniverse. He his arguably the most recurring and alluded villain in the franchise rivaling other characters like 

Malroc

, 

Aka Manah, Vekkisul

, and 

Grandmaster Chaos

. He also left a big impact on the franchise later on and possibly return due to his several back up plans on returning from the dead. It was Nekrozoth's schemes that caused the franchise to start in the first place as without him we would't have the series to begin with.

It is possible for him to devour an entire universe since he can absorb anything.
Daevas stated he doesn't like Nekrozoth because he is far too evil to even call him evil and would have stopped him if he weren't so lazy after the fight with Velnias.
Daevas compares him to Thanos and Darkseid. Daevas also mention if they ever fought each other than Nekrozoth would win easily even if Thanos and Darkseid combine fought him. 
It is possible he is the Demiurge of universe 18.
He is feared by many even by his own brothers and God dare not to speak his name...
He is very similar to the Marvel cinematic universe Thanos.

both were the big bad of their respected series.
both are the feared being in the universe (for Nekrozoth's case, the multiverse).
both had a vast army of otherworldly creatures and followers.
They are genocidal.
and both had been overarching antagonist until they finally become the main antagonist.
Both of them are conquerors and cause mass genocide.
They're both sadistic.

Unlike MCU Thanos, he is more sympathetic than Nekrozoth, he cared for Gamora and treats her like a daughter to him. Thanos thought he was doing the right thing and was trying to save the universe from itself, and he wasn't pure evil (while wiping half the universe is kinda messed up). while Nekrozoth is just flat out evil, knows that he is evil but just really don't care and enjoys it, doesn't even care for his children, and just want to wipe out all life so he can make a new multiverse to rule over. Thanos only kill when it's necessary, while Nekrozoth kills for fun (though doesn't kill if he wants a person alive long enough), Thanos is not a complete monster (to some point of view), while Nekrozoth is, and Thanos is mostly sane, while Nekrozoth is fully Insane. Nekrozoth is far more evil than Thanos and more powerful than he is. Nekorzoth even said that he hates the movie interpretation of him and thinks he's weak. at the end of infinity war, you can Thanos felt regret from what he was doing, while Nekrozoth doesn't regret anything.
His empire consists of Tyranids, demons, Chaos Space Marines, Tarkatans, Necrons, Nekrozorians, Sicorians, Dark Alphas, Fallen Angels, Prime Omegas, Vilgax's army, Chaos gods, Old Ones, Outer Gods, mythical monsters, titans, Sakaraans, Chitauris, Skrulls, Outriders, and Grimms.
Despite being an Anti-God, due to his origins and role he can be viewed more of a Satanic Figure. He was once part of a divine race until he grew power hungry and decided to join their counterparts. He started a rebellion (or in this case war) against the creator of existence (His brother Deus) and is weaker to a supreme being (Daevas). He rules a hellish dimension of suffering and evil (Oblivion) and is the source of all evil. Nekrozoth is manipulative, and can corrupt his opponents with their desires (Bill Cipher, Black Hat, Lord Dominator, and Lucifer). He can command hordes of daemons, and monsters including Prime Omegas. He has god like powers who use them for evil purposes. He is also a narcissistic, egotistical divine being who seeks to higher to his superiors but failed to and was Banta a hellish place. He as also the one that corrupted humanity and was the reason on why they sin.

It should also be noted that some people even called him "The Devil" or "Satan".

BrandonDarkOne47 stated Nekrozoth only respects four villains which are Darkseid, Emperor Palpatine, Scar from the Lion King franchise, and Shao Kahn. Funny on how these four villains are actually BrandonDarkOne47 favorite villains in real life.
He share some similarities with Zalgo from Pastamonsters.

Both are Pure Evil.
Both are Dark Lords
Both are beings of darkness.
The are also a Multiversal Conqueror and seek to dominate the Multiverse.
They also share a sadisitc personality.
They're also rapsit as the want to conceive a child that would inherent their powers.
They have an army of devoted followers and vil minions.
They also oppose a supreme Being (Daevas to Nekrozoth, Aton to Zalgo.) 
They also run an empire of evil.

Nekrozoth shares some similarities with Aka Manah.

Both are beings of evil.
Both are tyrants.
Both are Complete Monsters.
Both can travel to several different Multiverse.
Both wants to reshape the entire Omniverse in their image.
Both are Geniuses and Military strategist.
Both personify an evil concept (with Aka Being the Personification of Evil Intention, Purpose, and Thinking, While Nekrozoth it the Personification of Tyranny, Corruption, Ego, Omnicide, Conquest and Destruction.)
Both are Manipulative and have a short temper.
Both were sealed away and can't interact with the physical universes.
They want to torture everyone and enjoy their suffering.
It's up to debate who is eviler, Aka Manah or Nekrozoth. They're both complete monsters, and Aka Manah did everything that is atrocious besides rape (since he considers it, and any form of love, disgusting and pointless) and animal cruelty (he has been seen feeding dears and petting birds, along with reviving Chernobog's dog for no apparent reason.) Nekrozoth did Rape a lot of people and is very cruel to animals (just speak to Chernobog's dog). Nekrozoth is all the creator of everything evil, and is the source to all evil, but Aka Manah is evil personified.
He is Chernobog's half brother and mortal enemy.
Nekrozoth has some similarities with Shao Kahn from the Mortal Kombat game series.

They're both tyrannical rulers.
Both of them are conquerors who go to other universes and force the inhabitants worship them as gods (while Nekrozoth is already a god).
They're both arrogant and egotistical.
They are also highly intelligent manipulative.
Tehy also have a sorcerer as their right hand man (Shang Tsung for Shao Kahn, Remiok Sethos for Nekrozoth).
Both of them mistreat they're children.
Both of them are enemies to the protagonists (Raiden and Liu Kang to Shao Kahn, Legend and Jack Spark to Nekrozoth).
Both of them are power hungry dictators and would do anything to achieve ultimate power.
Nobody likes them.
Both of them have a certain moral alignment (Nekrozoth is Chaotic and Neutral Evil while Shao Kahn is Lawful Evil).
They also have a lots and lots of followers and minions.
They are the overarching antagonist of the first installment and later become the main villain in the sequel (Nekrozoth appears in the second Season as the main villain).
Both of them are hegemonic and bloodthirsty.
They both talk trash during a fight.
Both of them are abusive parents that also have their children hate them (Katana to Shao Kahn, Charles and Zartath to Nekrozoth).
Both of them are Complete monsters.
Both of them are Warlords and Megalomaniacs.
He also share some similarities with Darkseid as well:

Mainly both of them are Complete Monsters.
They are Godlike Tyrants.
They seek a certain object that would grant them immense power (the Anti-Life equation for Darkseid, the Chaos stones for Nekrozoth).
They both run a evil empire.
They both conquer worlds.
Both of them are oppressive.
Both of them are evil overlords.
They're multiversal singularities (Though Nekrozoth won the Alpha-Omega wars in a alternate timeline).
Both of the rule a certain planet (Nekrozoth mainly rules over three universes unless you count the universes and planets he conquered)
Both of them have a certain moral alignment (Darkseid like Shao Kahn is Lawful Evil while Nekrozoth is Chaotic Evil and Neutral Evil)
Both are feared and despised by Heroes and Villains alike.
Both of them are a God of Evil (Though Darkseid is more of a God of Tyranny).
Both of them are extremely powerful and are the archenemy of a certain Group (Justice League for Darksied, the Champions for Nekrozoth).
Both of them feed on the suffering of others psychically.
Both have a massive army pop daemons and aliens (While Nekrozoth has trillions of other species as well)
Both of them wanted to destroy the Multiverse.
Both of them are power hungry.
Both of them are strategic geniuses.
Both of them are abusive parents.
Both he and Darkseid uses the Omega symbol for represent themselves or something else.
Both are said to be evil incarnate.

BrandonDarkOne47 revealed that Nekrozoth's favorite torture method is whipping and scourging.
BrandonDarkOne47 revealed that Nekrozoth did attempt to invade the Amazing World of Gumboil universe through the Chanax company but due to the incompetents from his henchmen (namely Mr. Chananx and the people who worked there) his attempt failed.

Nekrozoth still planned to conquer it though.
He also fought Nicole Patterson and admits she was a fierce but still defeated her.
Nekrozoth's favorite color is red, green, orange, yellow, black, and purple. He also wear the same armor but with different color schemes.
BrandonDarkOne 47 had to remake Nekrozoth several times. Before he met HeresJosh, Nekrozoth shown to be weaker as even though he is omnipotent he constantly losses to mere mortals four times times. BraondonDarkOne47 fell like he should improve Nekrozoth so in the future people wouldn't make fun of him on how he constantly looses to mortals or how pathetic he is bt making a excuse on why he is weaker.
Nekrozoth suppose to be a satanic archetype one time where the creator what to set the Multiversal Legends series in a fantasy type setting similar to Lord Of The Rings but with sci-fi feature too. Nekrozoth would have been the main villain with Malroc to be the heavy of the story

Nekrozoth would have basically be the Melkor/Morgoth of the series with Malroc to be the Sauron.
He would also still posses his Anti-God status.
Nekrozoth name was going to be changed into Nuron, but people got it confuse with Neurons. BrandonDark47 decided to make it an alias instead and stick it with Nekrozoth.
Lord Dominus was actually a prototype for Nekrozoth, instead he is merely a god of evil as it never been stated that he created evil.
He is one of the few villain of the series who is not voiced by his creator as BrandonDarkOne47 said he not very good at voice acting or wants to attempt to do so. Plus he feels like the guy who voiced Sargeas would be perfect for the role.
He is greatly feared and despise in Heavan and was thought as a devil to the angels.
Though he was the main antagonist of Phase two, Aka Manah was the last villain to be defeated.
Nekrozoth does return in alternate reality, he declared his original self as pathetic and a weaker version of himself, though his original self returns later in the series.
The creator (BrandonDarkOne47) is planning of making a separate series center around on a alternate reality based on his old ideas. Nekrozoth is mostly likely the main villain of this said series.
BrandonDarkOne47 explain the reason Nekrozoth disdain redemption is because to him the concept itself has shown to be a mockery towards the Forces of Evil. Nekrozoth thinks redeeming is foolish as it would prove that all your evil acts are for nothing.
When asked what will happen if Nekrozoth finally became the main antagonist in the Multiversal Legends Film Universe's movie, BrandonDarkOne47 stated that he would write the script, mainly the scene involving Nekrozoth because he worries that the director would mess up the movie so BrandonDarkOne47 would have to make Nekrozoth the best part for the movie. Plus he doesn't trust the directors when it comes to adapting a fictional character, since he felt the directors would try to make Nekrozoth sympathetic or try to add a redeemable quality into the character which would go against the character's motive and characteristics.
Nekrozoth was voiced by Richard D. Wassermann once again for the Film Universe.
Despite being a social darwinist, Nekrozoth acts racist towards several different races like the Sparxians. He also Misogynistic and shown to be xenophobic towards many species and races.
The idea of Nekrozoth existed before the creation of the Multiversal Legends universe, The creator of the character existed a few years before the series was made. During that time, BrandonDarkOne47 came up wit h several series for the character to appear in, and several characters that Nekrozoth would be an enemy of.
Despite being a Complete Monster, Nekrozoth is one of the two favorite Villains BrandonDarkOne47 has created (the other being Malroc).
Nekrozoth share some similarities with Emperor Palpatine/Darth Sidious.

They both run an Empire.
They're Emperors.
Both of them are Dark Lords.
Both are master manipulators.
Both are excellent Swordsmen.
Both have a fallen hero as an apprentice (Malroc for Nekrozoth, Darth Vader for Palpatine).
Both manipulated their enemies to gain more power and then win at the end until they are eventually defeated by one of the protagonists.
Both are immensely powerful and that they are the leaders of a certain group of villains (Prime Omegas for Nekrozoth, the Sith for Emperor Palpatine)

Nekrozoth was the very reason why BrandonDarkOne47 to have Complete Monsters as his favorite type of villain.
Nekrozoth is theorized by many as a reincarnation of an evil overlord named Omegus during the time of the old omniverse who was responsible for creating the Ascension program.
Nekrozoth was going to appear in a film which takes place in an alternate dimension where Earth is in a apocalyptic waste land. By the time BrandonDarkOne47 (with a friend who helped make this film) was recording, it was snowing, the concept had to change a bit. Nekrozoth all the sudden was removed from the film and was replaced by an evil wizard and his partner with superpowers and took the role as the main villains.
It was heavily stated that both Nekrozoth and Vekkisul created a TV show together about child murder and human trafficking with Happy Smilestone as the host.
It's been hinted by the creator that Nekrozoth could and most likely return as stated by BrandonDarkOn47 "Nekrozoith is like what Aka Manah is, an idea. But he can't be destroyed what so ever or stay dead for long. He is incredibly smart and had seen the future of his fate several times that he came up with back up plans on returning even from beyond the grave. Nekrozoth is... and well always be... Evil Incarnate.".
Nekrozoth is an expert when it comes to fire arms, though he rarely use that skill unless it was his final resort. He only used it once on Phase 9 when he various guns and firearms to kill Legend and Jack.
Though the creator of evil, Vekkisul and Omegus existed far longer than Nekrozoth and were the first beings to turn evil before the concept was created.
As a play for laughs, Nekrozoth really hates the slender man movie.
Nekrozoth doesn't like horror movies in general as he doesn't find them scary nor does it have enough gore in all of them.
In the Daevas show, Nekrozoth was a pimp once and sold prostitutes to rapist and pedophiles.
Nekrozoth had once asked Happy to participate in Zartath's birthday party while his son was 8. Zartath said that day was the worst day in his life.
In the second episode of the Daevas Show, Nekrozoth and his empire runs a academy award winning show center around villains. Nekrozoth seems to always win the best rewards.
Despite being a One-Man Army, Nekrozoth at times at becomes cowardly as when he had to use a gun to save his skin and even when he is at the hands of Daevas he begged him for mercy.
Nekrozoth shares some similarities with another villain named Isaac Ray Peram Westcott from Date A Live.

Both are Complete Monsters with a long histories of atrocity and evil.
Both once had a tragic backstory but their actions and how they reacted to it pushed them away from haven sympathy that they become completely evil.
Both are nihilistic.
Both are sadomasochist as they both like to see people suffer as well as seeing themselves suffer both physically and mentally.
Both wanted to remold reality in their image.
Both are greatly despised.
Community content is available under
CC-BY-SA
unless otherwise noted.